About Us:

News & Media Events:

Related:

Resources: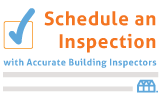 Lawrence Ubell

Curriculum Vitae

Lawrence Ubell
President, Chief Inspector (Partner)
Accurate Building Inspectors® (Joined 1983)
Construction Coordinator, Designer

Licensed Inspector:
New York Lic #16000012034,
New Jersey Lic #24GI00033900
EPA Certified Lead Inspector and Assessor/New York
Download CV: Lawrence Ubell (PDF 13KB)
E-mail: lawrence@accuratebuilding.nyc
Speaking Engagements
We are available for special events and speaking engagements:
PDF: Why Invite the Ubells to Your Special Event?
President & Chief Inspector
On a day to day basis Mr. Ubell inspects, commercial, industrial, residential structures for physical, mechanical, electrical, heating, ventilation, air conditioning, stairs, foundation and roofing attributes and produces written reports on his findings. Rendered expert testimony Queens County Supreme Court, Nassau County.
Manages the firm's finances. Contributor and research assistance in the publishing of "Save Energy Save Money" Alpha Books, Pearson Education. Environmental Lecturer, Medgar Evers College, Brooklyn, NY.
Overview

1983: Joined Accurate Building Inspectors as an apprentice inspector, served a four year apprenticeship, during which time he inspected over 1,000 buildings to complete his apprenticeship.
1988: Senior Inspector.
1989: Partner.
1998: President & Chief Operating Officer.
1997: WNYC Radio - Mr. Fix-It (Guru II) on the Lenny Lopate Show.
Present: Guest speaker at NYC College of Technology, The City University of New York Program: Anatomy of a Brownstone.

Previous Affiliations

ABC Television - Video Engineer and ENG (electronic news gathering) Crew (news, sporting event, entertainment, etc.).
Flying Tiger Communications - Video equipment manager worked on projects for WNET, commercials, etc.

Education

Pratt Institute Management and Engineering Construction.
Brooklyn College Music and Film Making.
Air Resources, New York City.
New York State Energy Office, Energy Conservation Training.
Entomology and Pest Control, Purdue University, Indiana.
Asbestos Training, New Jersey State College.
EPA Asbestos Inspector course, Flushing, New York.
Institute of Electronic & Electrical Engineers (IEEE).
International Association of Electrical Inspectors.
New York State Radon Screening.
BURSI'S - Low Slope Roofing Seminar, 1998.
Cook College Rutgers - The State University of New Jersey, How to -
Deal with Moldy Buildings, November 2, 2005.
Big Apple Occupation Society Corp.
Lead Insp. & Risk Assessor Trainer 2005.
American Institute of Architects (AIA) New York Chapter.
Egress in High Rise Buildings May 2007.
Con Edison of New York, Lightly Effective Seminar April 2007.

Organizational Affiliation

American Society of Home Inspectors (ASHI) (No. 204159).
Building Officials and Code Administrators International (BOCA).
New Jersey, American Society of Home Inspectors (ASHI).
Affidavit Member, AIA Brooklyn.
National Association of Broadcast Engineers & Technicians (NABET).
Member of World Karting Association (WKA).

Technologist

Building & Home Inspector.
Dept. Of Environmental Protection (EPA).
Certified Lead Inspector & Risk Assessor.
Construction Inspector.
Stairs & Ramps.
Hot Water Temperature.
Windows, Construction Management & Design.
Specification Writing.
Field & Condition Measurements.
Radio On Air Do-It-Yourself Personality.

Teaching & Education

New York City College of Technology - Lectured on on New York Townhouses and Brownstones, 2005 - Present.

Construction Coordination & Installation

David Associates, Design & Installation of Domestic Hot Water Systems.
Re-Construct Brick Foundation/Retaining wall at 1 Sylvan Terrace, NYC 2007.
Penthouse Alteration & Reconstruction at 50 West 106th Street NYC (15 Story MD) 2007.
Re-Construct and extending Chimney to a height greater than the water tower at 50 West 106th Street, NYC (15 Story MD) 2006.
Window Installation Project at 27-05 Parsons Boulevard, Queen, NY (6 Story MD) 2006.
Design & Installation of Domestic Hot Water System at 50 West 106th Street, NYC (15 Story MD) 2003.
Design & Installation of Domestic Hot Water System at 309 West 57th Street, NYC (12 Story MD) 2002.
Medical Office, Re-design, Alteration & Reconstruction at 205 Avenue -P-, Brooklyn, NY 2000.

"Dedicated to Quality & Safety in Housing & Construction"© Since 1961