About Us:

News & Media Events:

Related:

Resources: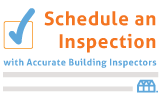 Alvin Ubell

Curriculum Vitae

Alvin Ubell
Vice-President, Senior Inspector (Partner)
Founder: Accurate Building Inspectors® (1961)
Legal Support Section
ASHI Charter Member (1976) No. 56, Retired.
Download CV: Alvin Ubell (PDF 13KB)
E-mail: alvin@accuratebuilding.nyc
Speaking Engagements
We are available for special events and speaking engagements:
PDF: Why Invite the Ubells to Your Special Event?
Principal, Semi-Retired, Chief Inspector
Accurate Building Inspectors® (ABI) inspects homes, buildings, industrial, commercial properties and construction site. Established in 1961, ABI, division of Ubell Enterprises Incorporated. ABI has inspected in excess of 35,000 structures. Clients consist of over 3,500 attorneys, numerous real estate organizations, architectural, engineering firms and governmental agencies. Expert testimony given in US District Court, Civil Court of NYC, NYS Supreme Court and New Jersey State Court, and Texas Civil Court. In the State of Florida, and Puerto-Rico, performing Plaintiff's investigations.
Household Hints & Safety Editor Reporter (On-Air & in Print)

1975-81 ABC-TV "Good Morning America" (150+ Episodes).
The America "Go Forth and Fix Segment".
1980-2000 Family Circle Magazine.
1982-83 WNYC-AM "Kids America" and "New York & Company".
1982-83 ABC-TV "Kids Are People Too".
1982-84 WABC-TV "Regis Philbin Show".
1983-90 WCBS-TV "New York".
1984-88 ABC Talk Radio Network.
1985-2018 WNYC-Radio "Leonard Lopate Show"
1991-92 ABC-TV Home Show.
ABC Video Entertainment (60 min. video) "America Go Forth & Save Energy".

Author

"Al Ubell's Energy-Saving Guide For Homeowners" — 1980 & 2002, Warner Books & Heritage Amerique, Alph Books/Macmillan. (1,000,000 copies).
"Recipes For Home Repair" — 1974, New York Times Books / NAL / Encyclopedia Britannica (500,000 copies).
"Al Ubell's Technology Almanac".
"Home Repair & Maintenance Guide".
"Save Energy, Save Money" Alph Books/Macmillan.
"Dictionary Of Hand Tools, From The Beginning Of Time To The Present" (In Progress).
"Chimneys and Fireplaces Of The World" (in progress).

Teaching, Lectures & Work-Shops

August Aichhorn Adolescents Center Home Repair.
Hundreds of Home, Garden, Energy Shows throughout USA.
Home, Garden & Energy Shows throughout the US.
Nassau Community College.
The Women's School (Brownstones & Other Structures).
Long Island University.
The New School, NY.
Queens & Brooklyn Public Libraries.
Brooklyn Union Gas Co.
Harlem Your Way.
State of New York Mortgage Agency.
Astoria Restoration Association.
Consolidated Edison of New York.
Brooklyn Chapter, American Institute of Architects.
Bronx County Bar Association.

Spokesperson / Technician

1991-92 & 1982-84 Brooklyn Union Gas (HVAC).
1990-91 Carrier Corp. (HVAC).
1987-90 Rust-Oleum (Paint).
1987-90 Slant/Fin (HVAC).
1982-83 Black & Decker (Tools).
1982-83 General Electric (Appliances).

Technologist

Master Cabinet Maker / Carpenter.
Home & Building Inspector (Held Licensure: New Jersey, Connecticut & Massachusetts).
Stairs & Ramps Designer, Builder, Safety Expert.
Hot Water System Designer, Temperature Monitoring, Safety (USN 1953).
Welding & Braising (USN 1953).
Paint Tech (1988).
Windows; Construction Management & Design.
Construction Specification Writing.
Road & Street Design.
Space Design.
Architectural Merchandising Designing, Construction.
Field & Condition Measurements.
Surveying.
Media Print, Radio & TV On-Air Do It Yourself Announcer, Commentator, Editor.

Media Public Service Commercials

Oldsmobile / AAA "Winter Driving Safety Tips".
Underwriters Laboratories (UL) "Gasoline Safety".
Brooklyn Union Gas, Co. (HVAC).
Con Edison.
LICO & NJ Public Service Electric & Gas "Heating System Chimney Safety".
Owens-Corning "Energy Saving".
Slant / Fin "Boiler Operations".
Carrier Corp. "Buying a Furnace".
1,000s of National Radio, TV & Print Media, Home & Energy Tips (US and Canada).

Awards

Achievement & Ethics, (June 2000).
Institute of Jewish Humanities.
U.S. Consumer Products Safety Commission (Feb. 1982).
American Hardware Manufacturers Association (August 1986).
Brooklyn Brownstone Conference.
Ronald McDonald House.

Construction Design Management & Installation

Chase Manhattan Banks, NYC.
Manufacturers Hanover Trust Banks, NYC.
Hens & Kelly Department Store, Hamburg, NY.
Nelson Rockefeller Office 16 Pine St., NYC.
Bond Stores, NY.
Revlon Corp.
Tishman Building, 666 5th Ave., NYC.
Trans World Airline, JFK, Airport, NY.
Fontainebleau & Eden Roc Miami FL, Revlon pharmacy arcade.
ABI Office Brooklyn NY.
David Assoc., Design, Installation Hot Water Systems, NYC.
Reconstruct Brick Foundation Retaining wall, One Sylvan Terrace, NYC (2007).
Penthouse Alteration, 50 West 106th St. NYC (15 Story MD) (2007).
Extend Chimney height at 50 West 106th Street, NYC (15 Story MD) (2006).
Window Installations 27-05 Parsons Blvd., Queen, NY (6 Story MD) (2006).
Design, Installation, Hot Water System 50 West 106th Street, NYC (15 Story MD) (2003).
Design, Installation Hot Water System, 309 West 57th Street, NYC (12 Story MD) (2002).
Medical Office, Re-design, Alteration, Reconstruction, 205 Ave. -P-, Brooklyn, NY (2000).

Organization Affiliations

Carpenters & Joiners of America
American Institute of Architects (AIA).
American National Standards Institute (ANSI).
Building Officials & Code Administrators International (BOCA).
American Federation of Television & Radio Artists (SAG-AFTRA 1976-Now).
Television Academy of Arts & Sciences.
American Society of Home Inspectors (ASHI) (Charter Member).
American Institute of Architects (AIA)
National Trust For Historic Preservation.
Brooklyn Brownstone Conference.
Brooklyn Museum.
Back To The City Conference

Employment Affiliations

Architectural Designer, Construction Coordinator, Specification & Technical Writer, Morris Ketchum Assoc, NY Architect.
Eleanor LaMaire, Interior Designer, NY.
Hinzmann & Waldmann, Architectural Interiors, Brooklyn, NY.
Jaff Bros Woodworks, Architectural Interiors, Queens NY.
Amos Parrish & Co. Architectural Store Merchandising Designer NYC.
Bergen Cabinet Inc., Cabinetmaker, Architectural Interiors, Brooklyn, NY.
Window & Doors, design, construct, repair, American Weather-strip Co. Brooklyn, NY.

Education

Pratt Institute, School of Architecture, Brooklyn, NY.
University of Massachusetts, Lead Inspector Training.
U.S. Navy 3rd Class Petty Officer, Radiological Warfare Technologist & Damage Controlman.
Air Resources, NYC.
New York State Building Code Council.
New York State Energy Office.
New Jersey State College Asbestos Training.
Institute of Electrical & Electronics Engineers (IEEE).
International Association of Electrical Inspectors.
Building Code Seminar (BOCA).
Education Seminars, American Society of Home Inspectors (ASHI).

Expert Testimony & Investigations

Construction, Labor Law, OSHA noncompliant accidents.
Trip & fall stair, ramp, sidewalk injuries.
Slip & fall wet slippery surfaces.
ADA noncompliant accidents.
Defective window, door, obstacles traversing line of travel.
Visual confusion injuries.
Elevator access defects.
Hot water technology, scalding injuries.
Mercantile store, market place display injuries.
Furniture, kitchen cabinet failures.
Store fixture defect injuries.
Performing thousands of investigations.
Verifying notice, constructive notice, cause, and create, collecting evidence.
Testified over One-Hundred-Seventy-Five (175) cases.
Providing services to Defendants & Plaintiffs.

Pro Bono

Board Member Kings Bay YM-YWHA.
Board Member Shore Front YM-YWHA.
Providing on-air time & technical advice for WNYC Radio, On-Air WNYC.
Ad hoc committee creating Kingsborough Community College, with NYC's Mayor, Robert F. Wagner.
ASHI Ethics Committee Board Member.

"Dedicated to Quality & Safety in Housing & Construction"© Since 1961