Publications:

Catalogue:

Newsletter:

How-To Tutorials:

Consumer Guides:

Related: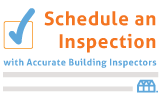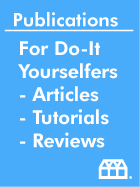 Home & Building Publications

Articles, Tutorials and Reviews

Expert Advice for Home Owners
Free publications on home repair, home improvement,
and consumer safety.
Tutorials: Recipes for Home Repair
DIY: Home Energy Audit
Guides: Family Circle Articles
ABI Catalogue: Fee Schedule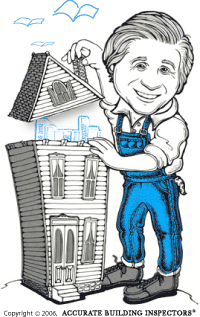 Newsletter Archive:
2003 - 2010
Many property owners will, at some point, be faced with having to report a claim to their insurance companies for losses they believe are covered under their policies. Over the years, insurance companies have made this process more and more confusing. Con't...
Back issues: Newsletter Archive
Contributing authors: Masthead
Send comments to: inspectors@accuratebuilding.com
New York's Newsletter on Safety, Housing & Construction.
Recipes for Home Repair
By Alvin Ubell & Sam Bittman
Complete Edition Online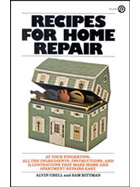 Tool Basics: Beginners Guide to Using Tools
Carpentry Basics: Furniture, Window & Door, Walls, Floors
Electricity: Home Wiring Basics
Plumbing Basics: Toilet Repairs, Drains, Water Pipes, etc.
Masonry: Home Foundation & Exterior Repair
Charts & Tables: Measurements & Materials Reference
DIY gurus always follow Safety First.
About the book: Recipes for Home Repair provides easy to follow home improvement tutorials to help you save money and energy. Download how-to lessons FREE!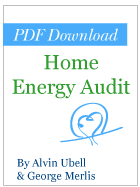 Home Energy Audit:
Checklist for Homeowners
Al Ubell's Energy Saving Guide
What is your Home E.Q.? Download the Energy Quotient Home Test from the book Al Ubell's Energy Saving Guide
Family Circle Articles

Download PDF versions: Circle Archive.
Home Guides
» Home Health & Safety Checklists
» Buyer Guides
» Home Improvement and Repair Tips
Household articles on home improvement and maintenance repair that every do-it-yourselfer can use. Written by Alvin Ubell and Label Shulman for Family Circle Magazine.
Catalogue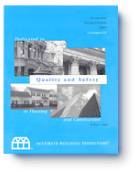 ABI Catalogue 5.0
Service & Testing Schedule
Download the entire Accurate Building Inspectors® catalogue containing the schedule of fees and services.
(Requires Adobe Acrobat Reader)