About Us:

News & Media Events:

Related: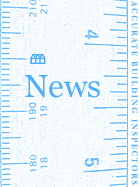 Press Release Jan. 26, 2006
Accurate Building Inspectors

®

Online Book: Recipes for Home Repair
1-26-06 New York's home inspector and guru of how-to Alvin Ubell of Accurate Building Inspectors® announces the online release of the book, Recipes of Home Repair, available free for download.
FOR IMMEDIATE RELEASE:
Recipes For Home Repair
Helping All Of America To Go Forth & Fix
P r e s s R e l e a s e
Distribution Date: January 26th, 2006
Alvin Ubell the author of a best selling home repair book, published by the New York Times, the Encyclopedia Britannica and the New American Library, Recipes for Home Repair, is available as a free download, page-by-page, in it entirety with all the sketches. Copyright 1974 by Alvin Ubell & Sam Bittman.
Download Page: http://www.accuratebuilding.com/publications/recipes/
Chapter 1: Tool Basics: Beginners Guide to Using Tools
Chapter 2: Carpentry Basics: Furniture, Window & Door, Walls, Floors
Chapter 3: Electricity: Home Wiring Basics
Chapter 4: Plumbing Basics: Toilet Repairs, Drains, Water Pipes, etc.
Chapter 5: Masonry: Home Foundation & Exterior Repair
Chapter 6: Charts & Tables: Measurements & Materials Reference
Sections of the book were profiled on ABC's Good Morning America and the Regis Philbin show, used in civil court case presentations and tort investigations.
REVIEWS:
"Takes the apartment dweller and home owner by the hand and leads them through a wide variety of Do-It-Yourself steps."
--Christian Science Monitor

"A clear, concise text excellent drawings make this a valuable and recommended work."
--Engineering and Technology

"Represents all that a how-to book can be. It is easy and enjoyable to use, it makes the jobs fun. The illustrations are absolutely beautiful."
--Indiana Journal Courier

"A clever book succinctly written with a twist of wryness and humor…
"It has the answers-for everything from the drain to the grouting to the floor tiles to the replastering."
"A good, quick easy-to-read, step-by-step reference that every homeowner (and a lot of impatient tenants) should have on their shelves."
--Brooklyn Heights Press
Go Forth & Fix! Advises Alvin Ubell author of Recipes For Home Repair, the book written primarily for men and women who have never turned a screwdriver or wielded a hammer.
Mr Ubell uses a unique and easy to follow format. Each repair is a recipe; tools and materials are utensils and ingredients. Step-by-step procedures, accompanied by clear, precise illustrations, provide excellent instruction and make any home repair seem easy.
Browse and download home repair tutorials:
http://www.accuratebuilding.com/publications/recipes/
For information on Alvin Ubell, Recipes for Home Repair, and the site, visit:
http://www.accuratebuilding.com/about_us/alvin_ubell.html
Contact:
Accurate Building Inspectors©
Lawrence Ubell, Chief Inspector
e-mail: Larry@accuratebuilding.nyc
tel: 718.265.8191
Licensed: New Jersey
---
Accurate Building Inspectors® 1860 Bath Avenue, Brooklyn, New York 11214-4616
Tel 718-265-8191 :: Toll-Free 1-800-640-8285 :: Fax 718-449-7190
info@accuratebuilding.nyc
Learn more about ABI's home Inspection Services »